Achieving and maintaining good health requires a lot of effort but the best trampoline chair will help you relax while working toward that goal.
We all want to maintain proper posture. So, why not invest in a chair that will do the job for you?
A trampoline chair will help you sit back and chill, stargaze, or peacefully read without straining your muscles. It's amazing for all kinds of other uses as well — such as office work.
Interestingly, you can add a touch of unique design to your interiors with the presence of your trampoline chair.
This sort of chair is also sometimes called a bungee chair due to the cords inside it. These cords are what give these chairs bounce and comfort.
There are many types when it comes to trampoline chairs. Let's discuss the benefits and desirable features of this seating option first. Then we can check out some of the top picks on the market.
Recommended Read: THE BEST NON-SLIP TRAMPOLINE SOCKS TO WEAR
Trampoline Chair: What Makes It So Desirable?
You might be wondering just what makes the trampoline chair a desirable addition to your life. After all, we have sofas, couches, armchairs, and several other options for sitting comfort.
Still, a nice trampoline chair has benefits that you just can't replicate with any other kind. Here are some of the features that make this chair so desirable: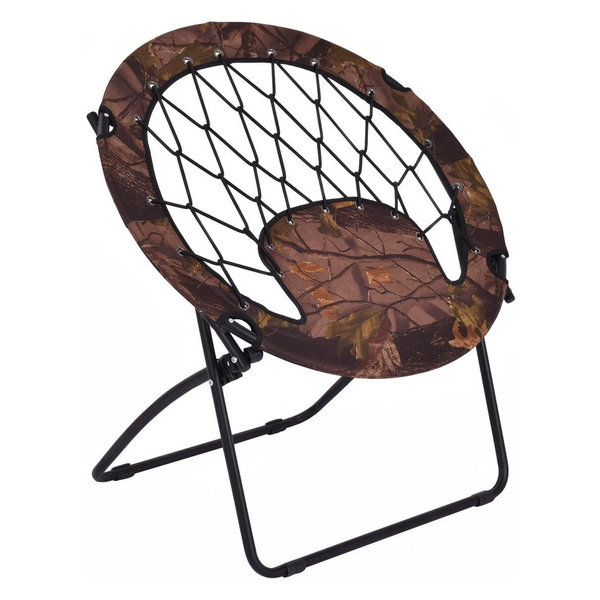 Outdoor Camping Folding Round Bungee Chair
Better sitting position
If you've been noticing some posture issues, it's time to take action or risk more back issues. With a trampoline chair, you can be sure of improving your posture just by sitting on it.
This improvement is through ample support from the chair. Plus, a trampoline chair is flexible enough to fit anyone's needs.
You can probably sit in one for the whole workday without risking back pain. That makes it excellent for people with arthritis too.
Easy storage
Most trampoline chairs are easily folded and stored. That makes them excellent options for traveling or when you want to free up space as quickly as possible.
If you're opting for a more minimalist lifestyle, a trampoline chair might be a solid investment. It provides several functions but doesn't take up much space.
Inexpensive
It's nice to know that trampoline chairs aren't an expensive option. At the same time, they're unique and trendy as well.
Amazing comfort
At the end of the day, we all crave a comfy spot to relax in. With a trampoline chair on hand, you can sit back and watch the kids, gaze at the sky, chill out on vacation, or just enjoy the wonders of nature while camping.
No matter where you are, a trampoline or bungee chair will give you that reliable nest.
How to Choose the Right Bungee Chair
Trampoline chairs are easily available on the market today but they're not all equal.
Before you choose any one model, you should keep several factors in mind. These include the following:
Safety
Trampoline chairs are designed for both children and adults. That's why you need to make sure that your choice can bear a lot of weight.
You don't want the cords snapping underneath your body when you fall into a trampoline chair! Fortunately, most of the models out there are able to withstand the weight of a fully grown adult.
Value
These chairs might not be as expensive as a couch. But they still come in varying price ranges.
Remember that the most expensive one won't always be the best. Still, you should be getting decent materials and strength for the price.
Adjustability
When your trampoline chair is adjustable, it will be able to provide ample comfort to anyone. This factor also contributes to the portability of the chair itself.
Durability
Any chair should be fairly durable as you don't want to make such a purchase repeatedly. When you're buying your chair, make sure the cords are durable and will last a long time.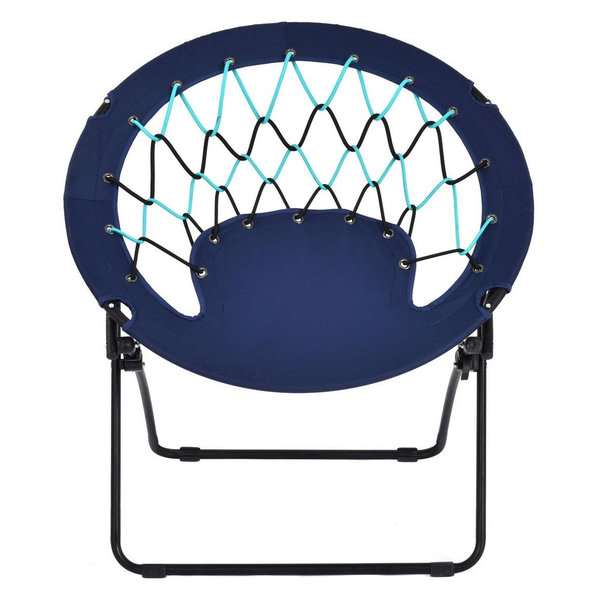 Outdoor Camping Folding Round Bungee Chair
Support
This is one of the most important factors, especially if you want to use the chair as an office chair.
The trampoline chair should have an ergonomic design that staves off fatigue, back pain, and other issues that crop up after hours of sitting.
Shape
Trampoline or bungee chairs are available in many shapes and sizes. You can opt for a round shape, a hexagon one, or whatever option suits your body in the best manner.
Recommended Read: THE ULTIMATE GUIDE TO DIFFERENT TRAMPOLINE SIZES
The Best Trampoline Chairs You Can Buy
Without further ado, let's have a look at the best trampoline chairs available at this moment:
Trampoline Chairs for Adults
Trampoline chairs are usually made for adults — with string materials and decent support.
You might want to check out the following options:
1. Zenithen IC544S-TV04
Buy on Amazon
The Zenithen IC544S-TV04 is among the most highly-rated trampoline chairs you can find today.
It has a round shape and comes in several brilliant colors for brightening your space. The construction here is solid, with a steel frame and a polyester rim.
The style of this chair is modern, with its maximum weight being 225 pounds. This makes it unsuitable for heavier adults but perfect for kids and adults with a fairly average weight.
Overall, this chair will fold up quickly and only weighs eight pounds. The weight and folding features make it easily portable.
When unfolded, you get a comfortable and secure experience while camping, working, or relaxing on the porch.
2. Camp Field
Buy on Amazon
The Camp Field has an alloy steel frame. It has a maximum weight capacity of 300 pounds. That makes it suitable and safe for most adults.
With high-quality materials and folding capacity, the Camp Field bungee chair is great for providing comfort and relaxation. The folding requires just one step. Therefore, it's easy to transport as well.
The materials here consist of an eclectic rope with durable and strong rubber. A steel pipe provides the frame with seamless construction and rust-proof material. This also ensures that the chair isn't bent or deformed too easily.
You can use this chair in the bedroom, the balcony, the beach, or even the outdoors alongside the trampoline. The elastic back provides both cushioning and support. So, you'd be relaxed wherever you go.
3. CAMPZIO
Buy on Amazon
The CAMPZIO is a foldable, lightweight, and portable trampoline chair that's suitable for the outdoors. You can get it in a few interesting colors, including Royal Blue and Black.
The materials are mostly polyester and steel. That ensures a solid construction throughout.
This chair can fold up into a compact size, making it easy to store anywhere or put in the trunk. It's lightweight, which makes it easy to carry while camping, going to a game, or a picnic.
Since the frame is steel, you can rest assured of a strong, durable experience. With the cradle provided by this bungee chair, you'll be sure of having a fun day out while relaxing at any point.
4. Euro Style
Buy on Amazon
This Euro Style bungee office chair comes with a low back, making it perfect for office use.
If you routinely spend long hours tapping away on a computer, this chair might be just the thing for relieving strain on your back, neck, and shoulders.
In fact, the Euro Style bungee chair is specially made for office work, whether it's at home or anywhere else. There's also a spin here to allow for easy movement, just like with a regular office chair.
It consists of a steel frame that's powder-coated for more strength. That means you can put more weight on it than most other bungee chairs.
However, that also adds to the weight of the chair itself, making it 16.8 pounds. Of course, since it's mainly an indoor chair, the heavier weight doesn't matter much.
5. Laura Davidson
Buy on Amazon
If you're looking for a flat bungee chair with adjustable height, the Laura Davidson bungee office chair might be your best option so far.
Its construction consists of alloy steel and polypropylene for the frame, with polyester for the cords. You can get it in black, dark grey, and blue color options.
You should bear in mind that it's one of the heaviest trampoline chairs you can get, weighing in at a whopping 25 pounds. However, Laura Davidson is a sleek office chair and not meant for frequent transport.
There's a 5-star base here with a tilt-and-swivel mechanism, making it a suitable addition to your office. There's also a pneumatic gas adjustment to get you just the right height.
With the tilt-locking feature, you can be sure of staying on the chair without any risk of falling. Since the seat is a solid surface, you also get some nice ventilation while sitting.
Other excellent features of this chair include an ergonomic design, removable arms, a 1-year warranty, and a powder-coated frame.
6. Zenithen Rectangular Air Mesh
No products found.
No products found.
The Zenithen foldable bungee chair is a real space-saver. Measuring at 39 by 32 by 39 inches, it can fit anywhere. The sturdy metal layout ensures durability and ease of folding.
The chair is extremely lightweight and easy to carry around. It's made of a flexible and sturdy bungee cluster while it's capable of carrying up to 225 pounds.
The bungee chair features a breathable fabric for optimal airflow that keeps the chair dry even if you have been sitting on it for hours.
It comes with an attached pillow and cup holder. After all, nothing could be better than sitting back and enjoying a relaxing drink! For extra safety, it comes with a safety lock.
7. Sosik
Buy on Amazon
The Sosik is a fun and flexible option that also provides great comfort with style.
It comes fully assembled. But you can always fold it up for storing or transporting. The steel tube frame and polyester fabric make for a light yet sturdy option.
You can also use the Sosik bungee chair as a lounge seat for beach houses, apartments, playrooms, and so on.
Trampoline Chairs for Kids:
Besides toddler trampolines, there are also some trampoline chair models out there that are specially designed for kids.
Comfort and function are essential in a chair no matter what age you are. So, you can consider one of the options below for a kid's use:
8. Impact Canopy
Buy on Amazon
The Impact Canopy is a lightweight, compact-sized, and multi-purpose bungee chair.
Whether you're looking for something comfortable for relaxing or want a bungee chair for outdoor activities, we highly recommend it.
The unique design not only makes an interesting addition to your furniture but is also ideal for sports and rugged use.
The incredibly sturdy construction of the chair features Velcro ropes and polyester meshed in a unique dish design. The foldable body allows for hassle-free storage and easy transportation.
The frame of the chair is made of heavy-duty, rust-resistant steel. That makes it ideal for every season.
The bungee cords ensure maximum back support, regardless of the weight. The airy design keeps the chair dry and comfortable
9. Bunjo
Buy on Amazon
The Bunjo hexagon chair comes in a stylish, functional, and modern design. It has a nylon cord in its seat which helps it to mold to the sitter's body.
Though you can replace the cords after years of wear-and-tear, the best part is those cords will always be reusable.
This chair will also fold and store easily. That's why you don't have to worry about space too much. The maximum capacity is 200 pounds. So, even small adults can sit here.
10. Zenithen IC504S-BUN3-TV1
Buy on Amazon
The Zenithen IC504S-BUN3-TV1 has a polyester rim and a steel frame. With its comfortable design, it will surely become a favorite with kids at home or while traveling.
While this version might present some difficulty in folding, it's still great for use outdoors. The panel inside the cords makes for a comfy sitting place while the frame is sturdy and safe.
The Trampoline Chair Provides Both Comfort and Fun
If you're looking for a trampoline chair for both fun and comfort, any of the options above will be great.
But if we had to choose one, though, the Zenithen IC544S-TV04 Bunjo Bungee Chair will probably be the best one. It might have a limited weight capacity but the quick folding and durability have us sold!
If you require an office chair, though, the Laura Davidson Bungee Office Chair seems to have excellent features and superb versatility. So, which one is your best bet? We'd love to know!
---
Photo by Hideki Nishiyama on Unsplash